For Maddie's 8th birthday, she wanted a Spa Party.
I said "OK".
What was I

THINKING?




NEVER AGAIN!!!





O

K, it wasn't

THAT

bad, but between working full time, running a house, exercising my butt off.... I just didn't have time to do an "out of this world" spa party. But I think I did OK. :)
T
he morning of the party, I ran to the Dollar Tree store for goody bags. Whoever thought of handing out goody bags to thank kids for coming to their party should be shot, in my opinion. I mean, it's ONE MORE THING TO DO FOR ME!!!
I
found some cute stuff to put in their bags pertaining to "bath" stuff. Then I ran to the grocery store for "healthy" food stuff (i.e. fruit, fruit dip, etc). I made sure to grab lots of different kinds of fruit, and boy was it yummy!
T
hen I ran home, got Maddie's favorite cake in the oven (two layer french vanilla cake with homemade chocolate frosting). Somewhere in between all this, I made homemade lip balm. That was pretty tricky. I tried melting petroleum jelly with honey, and the honey was just a big blob in the middle. Then I tried cocoa powder, and that worked. I tried Kool-aid, but I couldn't get rid of the lumpiness, and I tried sweetened Pink Lemonade, and still didn't work. So cocoa lip balm it was!
B
efore long, the little friends of Maddie arrived, and we set out for some fun!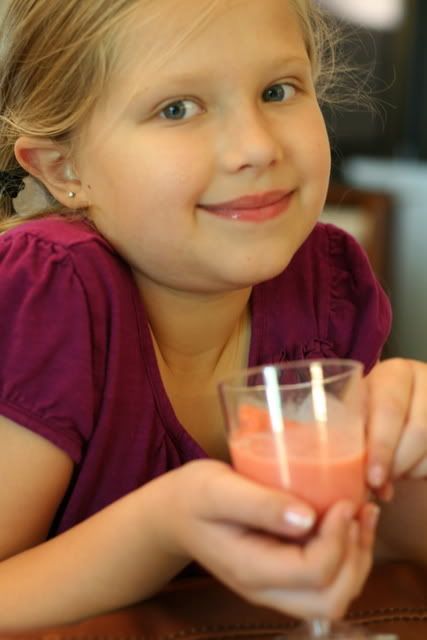 W
e had three stations that rotated. One was a nail station (painted nails). The next was the foot station (soak your feet & get the nails painted). The third was the craft station as well as the "rest your eyes" station. That was a fun station! So thankful for Katie & her friend Vanessa that came to save the day & help me!
I
also made smoothies (1 c orange juice, 2 c frozen strawberries, 1 frozen banana, and one small container of yogurt). I served them in little plastic wine glasses.
Those were THE hit of the day, it seems!
N
ow, here we have the "rest your eyes" station. As you can see, some took it seriously, and others couldn't control themselves & laughed the entire time. Most of the little girls kept lifting up the cucumbers and looking at me. Finally after 5 minutes I told them to eat the darn things.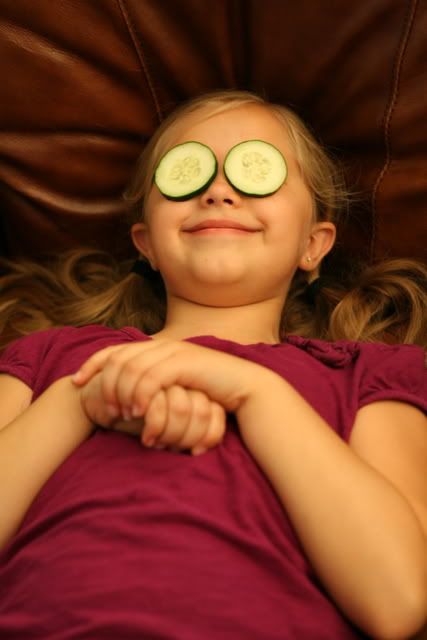 W
e made bath salt (1 c epsom salt, 5-6 drops of essential oil, 2 drops food coloring). What fun that was to shake it all up (and me hoping they don't shake hard enough that salt goes EVERYWHERE!)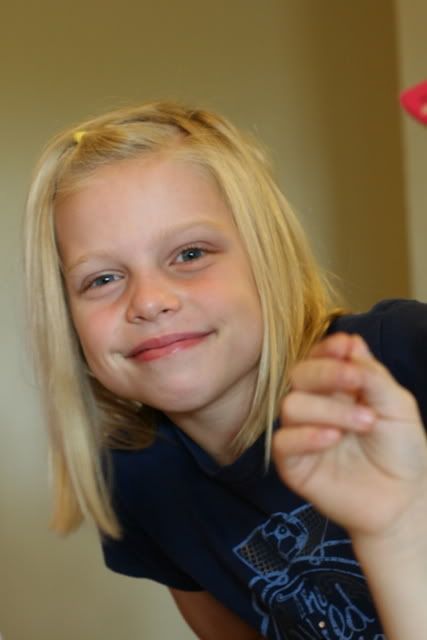 F
or some reason, almost all my pictures are fuzzy, but the only ones that turned out "non-fuzzy" are the ones you see.... predominantly of Tressa (Maddie's BFF) & Madison.