A few weeks ago in my ladies church group, we all got together and did a "My Favorite Thing" evening. We started out by singing from The Sound of Music "My Favorite Things"... a song which I absolutely LOVE coming from a movie that I absolutely LOVE!! We all went around the room sharing one thing we love (showing the item) and then giving away something that we love as well (to one person).
I only had like 5 minutes to grab something, and wasn't sure which items were my favorite. So I grabbed like 3-4 things. I started off with "My favorite thing is .... Skinny Dipping". I held up my Skinny Dipping Scentsy bar. Oh man... that got some laughs!! Well, it truly is my favorite Scentsy scent! Then I showed my pictures, in a photo book since if my house was on a fire, my pictures would be what I would try to grab b/c those are THE things dearest to my heart
(of course, after I get my kids out of the house if there's a fire).
I also shared my love for the newest series that I was reading at the time.. the Enchanted Inc series.
I thought about the "My Favorite Thing" and realized that I have quite a few favorite things in life.
For my lips:
Lypsyl hands down is the winner in my book for lip care. These I can only find at Walgreens, and are a little more pricier than the rest of the lip care stuff.
TOTALLY
worth it though!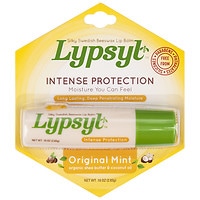 For my hair:
Totally in love with Garnier Wonder Waves shampoo & conditioner. My hair is a cross between waves & curls, and it's getting freakishly curlier as I get older (like my aunt's hair!). This stuff makes my hair SO stinking soft. Love it!
For lip care (again)...
I love Bonnie Bell's Dr Pepper. It give just a hint of color... while soothing those lips. I like it more for the color than anything!
For my water habit:
I drink a ton of water at work. I found these
Thermos Nissan Intak Hydration Bottle w/ Meter
at Target & Amazon... and for the price, they were a DEAL! I believe they were about $10 or under. When you take a drink, the lid doesn't flip back to hit your nose, and of course the water doesn't leak out anywhere b/c it has a latching system so it prevents that... and it's my all around favorite! My girls & I each have our own in our own respectable colors!
I kind of like sharing my favorite things! I might have to keep this up on a weekly basis!
What are some of YOUR favorite things?! Share it with me or on your blog! I am a big believer that word of mouth works.... and I always end up buying stuff my friends tell me they love!